Teacher opinions about qualities of effective teaching
Kıvanç Bozkuş

Artvin Çoruh University

Mustafa Taştan

Ministry of Education
Keywords:
Teacher, Quality, Efficacy
Abstract
This study aimed to determine both the importance order of qualities that effective teachers should have and differences between perceptions based on gender, branch and school types. Results indicated that the most important quality perceived by teachers was classroom management. Other qualities were respectively the planning of instruction, personality traits, instruction, and monitoring of student progress. Teachers did not spent enough effort to improve their qualities, and they did not care enough for pupils left behind of class. Classroom teachers attached more importance to classroom management than branch teachers. Researching of why teachers perceive classroom management as the most important quality rather than instruction, why they do not care for professional development and face to face interaction with pupils, and why classroom teachers attached more importance to classroom management than branch teachers are recommended. Also, it is suggested that the preparation and professional development activities of teachers should prioritize trainings of classroom management, instruction and monitoring of student progress.
Downloads
Download data is not yet available.
References
Akçadağ, T. (2010). Öğretmenlerin ilköğretim programındaki yöntem teknik ölçme ve değerlendirme konularına ilişkin eğitim ihtiyaçları. Bilig, 53, 29-50.
Azam, M. & Kingdon, G. G. (2015). Assessing teacher quality in India. Journal of Development Economics, 117, 74-83. DOI: https://doi.org/10.1016/j.jdeveco.2015.07.001
Bayrak, C. (2003). Bir sistem olarak okul. In (Ö. Demirel, Z. Kaya Eds.) Öğretmenlik Mesleğine Giriş (3. ed.). Ankara: Pegem.
Bozkuş, K. & Gündüz, Y. (2013). Comparison of teacher education and hiring policies in PISA leader countries. International Symposium, New Issues on Teacher Education, Hacettepe Üniversitesi, Ankara. doi: 10.13140/2.1.3134.3364
Bozkuş, K. & Marulcu, İ. (2016). Öğretmen adaylarına göre etkili öğretmen nitelikleri. 8. Uluslararası Eğitim Araştırmaları Kongresi, Çanakkale, Türkiye.
Brookhart, S. M. & Loadman, W. E. (1992). Teacher assessment and validity: What do we want to know? Journal of Personnel Evaluation in Education, 5, 347-357. DOI: https://doi.org/10.1007/BF00126827
Buchanan, J. (2012). Improving the quality of teaching and learning: A teacher-as-learner centred approach. International Journal of Learning, 18(10), 345-356. DOI: https://doi.org/10.18848/1447-9494/CGP/v18i10/47764
Büyükduman, F. İ. (2005). İlköğretim okulları İngilizce öğretmenlerinin birinci kademe İngilizce öğretim programına ilişkin görüşleri. Hacettepe Üniversitesi Eğitim Fakültesi Dergisi, 28, 55-64.
Cawelti, G. (2004). Handbook of research on improving student achievement (3.ed.). Arlington: Educational Research Service.
Cotton, K. (2000). The schooling practices that matter most. Portland: Northwest Regional Educational Laboratory.
Creemers, B., Kyriakides, L. & Antoniou, P. (2013). Teacher professional development for improving quality of teaching. Dordrecht: Springer. DOI: https://doi.org/10.1007/978-94-007-5207-8
Çalışkan, Ş., Karabacak, M. & Meçik, O. (2013). Türkiye'de eğitim-ekonomik büyüme ilişkisi: 1923-2011 (Kantitatif bir yaklaşım). Yönetim Bilimleri Dergisi, 11(21), 29-48.
Darling-Hammond, L. (2001). The challenge of staffing our schools. Educational Leadership, 58(8), 12-17.
Fraenkel, J. R., Wallen, N., & Hyun, H. (2012). How to design and evaluate research in education (8. ed.). New York: McGraw-Hill.
Guskey, T. R. (2007). Multiple sources of evidence: An analysis of stakeholders' perceptions of various indicators of student learning. Educational Measurement: Issues and Practice, 26(1), 19-27. DOI: https://doi.org/10.1111/j.1745-3992.2007.00085.x
Gürol, A. & Yalçın, H. (2009). İlköğretim programının öğrenci sayısının fazla olduğu sınıflarda uygulanmasında karşılaşılan sorunlar. VIII. Ulusal Sınıf Öğretmenliği Eğitimi Sempozyumu, Osmangazi Üniversitesi Eğitim Fakültesi, Eskişehir.
Karakelle, S. (2005). Öğretmenlerin etkili öğretmen tanımlarının etkili öğretmenlik boyutlarına göre incelenmesi. Eğitim ve Bilim, 30(135), 1-10.
Langer, J. A. (2000). Excellence in English in middle and high school: How teachers' professional lives support student achievement. American Educational Research Journal, 37(2), 397-439. DOI: https://doi.org/10.3102/00028312037002397
Liston, D., Borko, H., & Whitcomb, J. (2008). The teacher educator's role in enhancing teacher quality. Journal of Teacher Education, 59(2), 111-116. DOI: https://doi.org/10.1177/0022487108315581
Molnar, A., Smith, P., Zahorik, J., Palmer, A., Halbach, A., & Ehrle, K. (1999). Evaluating the SAGE program: A pilot program in targeted pupil-teacher reduction in Wisconsin. Educational Evaluation and Policy Analysis, 21(2), 165-178. DOI: https://doi.org/10.3102/01623737021002165
OECD. (2005). Teachers matter: Attracting, developing and retaining effective teachers. Paris: OECD Publishing.
OECD. (2014). PISA 2012 results in focus: what 15-year-olds know and 2 what they can do with what they know. Paris: OECD.
Peart, N. A. & Campbell, F. A. (1999). At-risk students' perceptions of teacher effectiveness. Journal for a Just and Caring Education, 5(3), 269-284.
Rowan, B., Chiang, F. S., & Miller, R. J. (1997). Using research on employees' performance to study the effects of teachers on students' achievement. Sociology of Education, 70, 256-284. DOI: https://doi.org/10.2307/2673267
Rushton, S., Morgan, J., & Richard, M. (2007). Teacher's Myers-Briggs personality profiles: Identifying effective teacher personality traits. Teaching and Teacher Education, 23, 432'441. DOI: https://doi.org/10.1016/j.tate.2006.12.011
Seidel, T. & Shavelson, R. (2007). Teaching effectiveness research in the past decade: The role of theory and research design in disentangling meta-analysis results. Review of Educational Research, 77, 454-499. DOI: https://doi.org/10.3102/0034654307310317
Stronge, J. H. (2007). Qualities of effective teachers (2. ed.). Alexandria: Association for Supervision and Curriculum Development.
Şahin, A. (2011). Öğretmen algılarına göre etkili öğretmen davranışları. Ahi Evran Üniversitesi Eğitim Fakültesi Dergisi, 12(1), 239-259.
Turan, S., Yıldırım, N. & Aydoğdu, E. (2012). Okul müdürlerinin kendi görevlerine ilişkin bakış açıları. Pegem Eğitim ve Öğretim Dergisi, 2(3), 63-76. DOI: https://doi.org/10.14527/C2S3M6
Williams, R. E. (2010). Administrator and teacher perceptions of the qualities of effective teachers. Unpublished doctoral dissertation. Williamsburg: The College of William and Mary in Virginia.
Yalçınkaya, M. & Tombul, Y. (2002). İlköğretim okulu sınıf öğretmenlerinin sınıf yönetimi becerilerine ilişkin algı ve gözlemler. Ege Eğitim Dergisi, 1(2), 96-108.
Yeşil, R. (2006). Sosyal bilgiler öğretmenlerinin sınıf içi öğretim yeterlikleri (Kırşehir örneği). Ahi Evran Üniversitesi Kırşehir Eğitim Fakültesi Dergisi, 7(2), 61-78.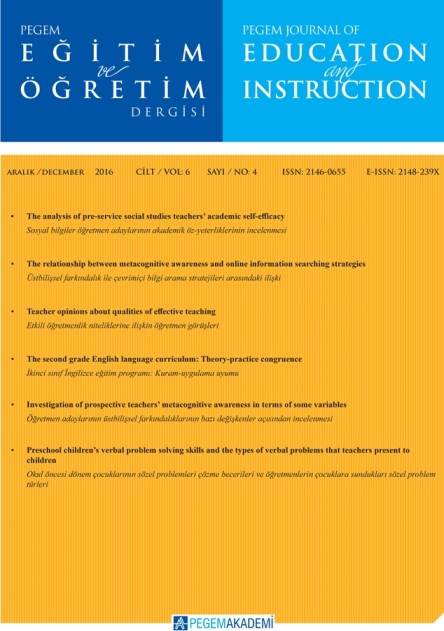 How to Cite
Bozkuş, K., & Taştan, M. (2016). Teacher opinions about qualities of effective teaching. Pegem Eğitim Ve Öğretim Dergisi, 6(4), 469-490. https://doi.org/10.14527/pegegog.2016.023
This work is licensed under a Creative Commons Attribution 4.0 International License.
I accept that the owner of PEGEGOG, the editor, associate editors, reviewers and the scientific committee cannot be hold responsible regarding the scope, the findings, the discussion and conclusion of the manuscript submitted.
I declare to the editorship of PEGEGOG that the manuscript is original and has not been published anywhere else or is not under evaluation process for any other journal.
I approve that I grant PEGEGOG as the sole and exclusive right and license to publish for the full legal term of copyright of my manuscript concurring with article 5846 / 22-23-25 while I retain copyright in the work.